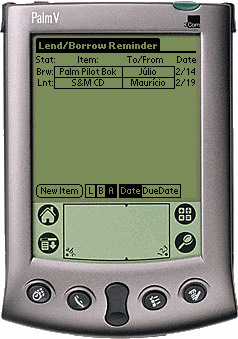 Lend and Borrow running on Palm V
You are crazy to listen that Queen CD, but where is it? And from whom you took that book about Palm Pilot? These types of questions can now be easily answered using this FREE and very easy to use application.
Key Benefits
All items presently in a table format, easily managed;
Integrated with the Find command of your Palm Pilot;
GetInfo* button to search for the person's name in the Address Book;
Reminder Alarm;
Three different views: Lend items; borrowed items; all;
One click to switch between views;
And best of all: it's FREE!
Minimum System Requirements
Palm OS version 2.0 or later.
16KB available memory.
* The GetInfo button only works with the default Address Book application of your Palm Pilot installed.
Download
Lend And Borrow version 1.2 (10 KB)
---